Radio Telephony and the Private Pilot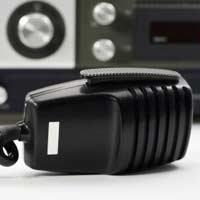 A typical flying student at the beginning of their training will jump into an aircraft with an instructor and diligently go through the aircraft check list and start the aircraft. At this point the instructor will press the transmit button on the radio and start to speak some sort of strange language to the tower who in turn reply in an equally strange tongue!
The instructor then ask the student to taxi to the point where power checks can be made and after performing these checks instructs them to taxi to the holding point where more strange words are exchanged between the tower and the instructor.
Finally they successfully take off and yet more strange words are exchanged with the tower. At this point the student pilot may be thinking that the flying bit is straightforward enough but this radio lark is going to be really tricky!
Examples of the Phonetic Alphabet
To give you a small idea of what this "strange" language sounds like there are examples of how letters A – G are pronounced listed below: -
A, Alfa, AL FAH
B, Bravo, BRAH VOH
C, Charlie, CHAR LEE
D, Delta, DELL TAH
E, Echo, ECK OH
F, Foxtrot, FOKS TROT
G, Golf, GOLF
The numbers are also fun: -
0, ZERO
1, WUN
2, TOO
3, TREE
4, FOWER
5, FIFE
6, SIX
7, SEVEN
8, AIT
9, NINER
Decimal, DAYSEEMAL
Hundred, HUN DRED
Thousand, TOUSAND
The reason for this strange way of pronouncing letters and numbers is because English is the international standard language for use in aviation communications and by standardizing the pronunciation everyone should be able to understand one another when they use the radio!
Examples of Typical Spoken Abbreviations
ATC, Air Traffic Control, A T C
ATIS, Automated Terminal Information Service, pronounced as one word.
MATZ, Military Aerodrome Traffic Zone, pronounced as one word
VFR, Visual Flight Rules, V F R
By now you can probably appreciate why most people initially find this way of communicating strange and that it takes them some time to come to terms with it. The only way to really learn it is to use it as much as possible, especially while flying as it is surprising how much workload it places upon the student pilot who must get used to this as quickly as possible.
The Radio Telephony Exam
The Radio Telephony exam is in two parts a written and oral test. The written exam test the student on rules, regulations and procedures regarding Radio Telephony while the oral exam will be taken on a ground based radio simulator.
An examiner will then act as the ground station while the student "flies" an imaginary flight and uses the radio as if they were on a real flight. As you can imagine the examiner will put the student through most routine procedures that happen during flight and they will add the odd Mayday or two just for good measure!
Conclusion
Radio Telephony is a subject that should be tackled as soon as a student pilot is able to, as this will enable them to get the most out of their training from the very start and enjoy learning to fly even more.
You might also like...