Human Performance & Limitations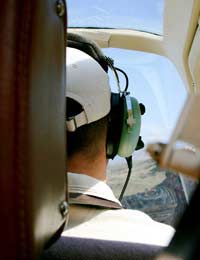 Our minds are a very strange and complicated machine, which we constantly use it and to trust it to tell us what it is happening in the outside world. Unfortunately it does not always tell us the truth and that is especially the case when one is flying an aircraft.
We get very used to the sensory inputs that are presented to us while on the ground and our minds try and process new inputs while we are flying as if we are still on the ground. This can lead to some very unexpected results that ultimately could cause an accident – possibly fatal!
Why are Human Factors so Important?
A high proportion of all air accidents are attributed to human error. This is not surprising when you consider just some the work load a pilot can have placed up on them just in flight: -
Visual senses – keeping a lookout for other aircraft, hazards and landmarks.
Keeping the aircraft on course, at the correct altitude and in balance – maintained by the use of hand and foot controls.
Radio (RT) - Keeping in contact with ground stations, writing and reading back instructions, changing radio frequencies.
Navigation – reading the map, keeping track of the aircrafts position, when to turn onto the next heading, changing VHF Omni direction Radio/Distance Measuring Equipment (VOR/DME) and/or the Non Directional Beacon (NDB) frequencies and setting settings.
FREDA checks – Making sure that the Fuel, Radio, Engine, Direction indicator and Altitude are set and within acceptable limits.
Talking to the co-pilot and any passengers.
As you can see pilots have quite a work load to contend with and as you would expect this increases the chances for human error to occur.
Practical Example of Spatial Disorientation
One of the more common problems experienced by pilots is a condition known as Spatial Disorientation. This means that the pilot believes they are moving in a particular direction or attitude whereas the aircrafts actual heading and attitude is completely different!
During your flight training there will come a point during a flight when your instructor will ask you to put on a set of goggles that obscure your view of the outside world but still let light in.
You will then be asked to keep the aircraft on a straight and level flight. It is quite likely that you will fly the aircraft and that everything feels just the way it did before you donned the goggles and that the aircraft is flying pretty much in the same way as it was before.
After a relatively short while the instructor will ask you to take of these goggles and you will probably find that the aircraft is now going up or down, the course has changed and possibly one of the wings has dropped!
This situation can happen all too easily during a flight where Visual Flight Rules (VFR) are applicable but the visibility is reduced so much that it is hard if not impossible to make out the horizon and use it as a reference point.
Conclusion
There are many aspects to this subject, which have both psychological and physiological parts to it. It is essential that you learn all of them and put them to practical use. The safest and best way to do this is while you are a student and have an instructor on board who will make sure that you, and the instructor, come to no harm.
You might also like...