Flying & Meteorology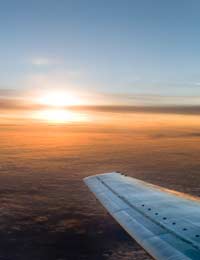 The weather plays a major part in a large proportion of accidents in General Aviation (GA), your safety, comfort and even if you fly at all. Therefore it should be studied carefully and treated with great respect before making the decision to fly or not.
Overview
Student pilots should not simply learn this subject in a parrot like fashion as they will almost certainly forget most of the details in a short space of time. This lack of proper knowledge about meteorology will almost certainly cause them to encounter" problems" with unpredicted weather conditions after they qualify for their Private Pilots Licence (PPL) and start planning and flying as Pilot In Command (PIC).
The first thing to understand is that the weather is by its very nature unpredictable and that weather forecast are exactly what they say they are - forecast! It is the job of the aviator to study these forecast and determine what the weather conditions will most likely to be like at the time and areas on the route they wish to fly and evaluate the risk to safety.
Keep an eye out for a very good safety poster that you may see pinned to the wall of your club or at other airfields that emphasises the need for checking and planning for weather by stating something like " it is better to be down here wishing you were up there - than up there wishing you were down here!"
Training
Aviation meteorology contains many new words and terminologies, that seem more like a foreign language, which must be learned, thoroughly understood and committed to memory for certain practical use. All of this may be a "little" daunting to the student pilot when they open the training manual on Meteorology and read it for the first time!
Practice, practice and more practice is the only way that your skills on interpreting weather reports and deciding if it is safe or not to fly will improve. Create a free logon account to the MET Offices Aviation Service by visiting their website and learn to use the free services that it provides.
Practice by looking at briefing charts F214 UK spot wind forecast chart, F215 UK Low-level forecast chart, F415 European Low-level forecast and F414 European spot wind forecast as well as the Terminal Aerodrome Forecast (TAF) and MET actual report(METAR) bulletins. Be sure to make full use of the help and information pages that give lots of help on how to decode reports and to get the best use out of the services they offer.
An excellent two-day Meteorology for Aviators training course is run at the Met Office College in Exeter and more details about it can be found on their website. There is a fee payable for this course, which is normally very busy, and it is advisable to book it as early as possible to be sure of a place.
It is very important to take the time to learn this subject thoroughly and make sure that you keep yourself up to date and proficient in its use - you will pay the price if you don't!
You might also like...