Air Law for the Private Pilot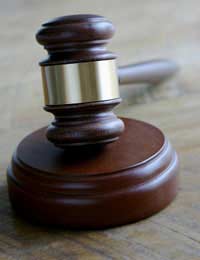 People are attracted to flying by the idea of the freedom to wander the skies. Their natural reaction when being told that they have to learn about Air Law, and that is one of the exams that has to be passed in order to get a Private Pilots Licence (PPL), is" Oh no - not law, more tiresome restrictions and regulations!"
Common Sense
When the student pilot starts to learn about Air Law they are normally quite surprised that the subject is far more concerned about common sense and practical matters than legal technicalities. Air Law is more like a Highway Code book of aviation that has to be committed to your memory, as it is very difficult to look something up concerning Air Law while you are flying!
Training Material
Air Law is normally the first written exam taken by the student pilot. It has to be passed before they can make their first and very memorable solo flight. The exam consists of 20 multi choice questions and the pass mark is 75%.
There are a number of very good training books, DVDs and CDs on Air Law that you may be able to purchase from your flight school. If your flight school does not sell this type of training material then ask your instructor if they have any preferred author that they recommend you use during your training. Then have a look through the aviation magazines or visit a pilots supply shop to find the best deal.
Air Law Subjects
A typical Air Law course book will start off with Legislation and introduce "The Basis of Aviation Law" listing the relevant articles of the Convention on International Aviation. It may also gives an overview on the International Aviation Organisation (ICAO), which was established in 1944 in order to standardise operating procedures as well as navigation practices.
The articles cover a wide range of topics such as sovereignty, territory, and non-scheduled flights over states territory etc. They do not appear to be very interesting but don't be tempted to skip over them as questions about these can, and probably will, be asked in the Air Law exam!
Following this is the more practical subject of "Rules of the Air" and a typical example list of the topics covered by this section is listed below-
Visual Signals to Aircraft on the Ground
Aviation Fuel
Aerodrome Traffic Zones
Runways
General Rules of the Air
Right of Way in Flight
Order of Landing
Right Hand Traffic Rule
Aerobatics
Low Flying Rules
Visual Flight Rules (VFR)
Ground to Air Visual Signals
Distress - Difficulty and Urgency Signals
Interception of Aircraft
Rules for Avoiding Collisions
Movements at Aerodromes
Flight in the Vicinity of Aerodromes
Take off and landing
Rights of Way on the Ground
Simulated Instrument Flight
Aerodrome Lighting
Light Signals
Taxiway Signals and Markings
Marshalling Signals
Notification of Arrivals and Departures
Closure of Airfields
It may look a daunting list of things to learn but you will use a most of these rules, hopefully not the emergency ones, during your training and when you get your Private Pilots License (PPL).So don't be tempted to just cram all of this information into your head to pass the exam and then forget about them! Air Law really is an essential tool that makes flying safer, interesting and much more fun.
You might also like...