Training To Become A Commercial Airline Pilot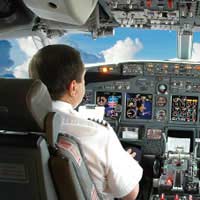 Becoming a Commercial Airline Pilot is a dream shared by many aviators and non-aviators alike. The romantic idea of taking to the skies as a captain of an aircraft who can handle any situation both in the air and on the ground and get paid for doing it is very appealing.In reality is there is a lot of work, money and to some degree luck needed to make this dream come true.
Do You Really Want to be a Commercial Pilot?
People wishing to become a Commercial Pilot may have got this idea after flying simply as a passenger on commercial flights. They found the smooth operation and the apparent glamour presented to them by the aircrew very appealing and decided that this was the job for them!
Probably the best way to find out if you are suitable to become a pilot and if you actually enjoy being a pilot is to train for a Private Pilots Licence (PPL).The minimum age for a person to be issued with a PPL is 17 years. Keep in mind that in general the PPL is to be used for your own personal pleasure and if you want to earn money from flying you will need a Commercial Pilots Licence.
Depending on the student it can typically cost £5000 to £7000 to train for a PPL in the UK The amount of time training is dependent on both the student and UK weather conditions and is normally taken over a 2-year period.
Some students elect to train overseas in countries such as the USA where it is cheaper to study and the weather conditions allow training to take place over a much shorter time span.
By training for a PPL you will find out if: -
you actually enjoy flying and really want to become a commercial pilot
If you posses the correct aptitude to become a commercial pilot
you can satisfy the initial CAA JAR Class 1 medical requirement. A Class 2 is required for the PPL but it is better to find out now if you can achieve the Class 1 standard required for a commercial licence
Being issued with a PPL will count as 100 hours of ground instruction towards a Commercial Pilots Licence.
Training to be a Commercial Pilot
Before embarking on the long and expensive process of gaining a Commercial Pilots Licence (CPL) or Airline Transport Pilot Licence (ATPL) it is really a good idea to make sure that you can still pass the initial CAA JAR Class 1 medical examination to avoid unnecessary disappointment and expense. Depending on your age you must pass this test every year or six months.
Ground studies include the following subjects; -
Aviation Air Law
Aircraft General Knowledge
Flight Performance and Planning
Human Performance and Limitations
Meteorology
Navigation
Operational Procedures
Principles of Flight
Communications
Flight training includes flying single, multi engine aircraft and flight simulators.Flying training time for the CPL(A) is a minimum of 150 hours and 195 hours for the ATPL(A). The courses can either be integrated or modular. The integrated course takes between 9 and 36 months and typically cost between £50,000 - £60,000.
It is possible to get sponsored by an airline for one of these courses but there is a lot of competition for this type of scholarship and they are really hard to get.
Job Prospects
On the positive side, air transportation is growing and a lot of the existing airline pilots are approaching retirement age. This should create a demand for new pilots in the near future and the prospect of getting a job as a commercial pilot looks promising!
Good Luck!
You might also like...