How to Obtain Your Private Pilot's Aeroplane Licence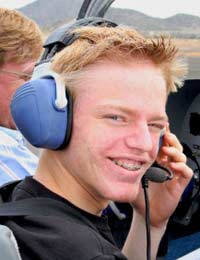 If you are new to flying or just starting out it will soon become apparent to you that there are a number of different factors that will need to be taken into consideration before training for your Private Pilots licence (PPL) or National Private Pilots Licence (NPPL).
Will I Like Flying?
The first and really big question is - will I like flying? This may seem a strange thing to ask but your idea of what learning to fly is like may be a lot different to that actually experienced during a trial flight with an instructor. You may come down from the trial flight eager to take the next steps in becoming a pilot or to the conclusion that flying is not really for you. Either way you will not know until you take that trial flight!
Am I Fit Enough to Fly?
To avoid disappointment and financial loss it is strongly recommended that you take a medical test appropriate for the type of licence that intend to train for before booking any further lessons.For the Private Pilots Licence (PPL) you will need a Class 2 medical certificate issued by a CAA authorised medical examiner.
Medical requirements for the National Private Pilots Licence (NPPL) are not as stringent as those for the PPL. Depending on your health, your doctor can issue either a DVLA Group 2 or Group 1 medical certificate. The main difference between the two types of certificates are that the Group 2 certificate allows unrestricted flying with passengers and the Group 1 certificate only allows you to fly with other qualified pilots in an aircraft fitted with dual controls.
Can I Afford It?
Typical cost for a PPL or NPPL course in the UK is between £4500 and £7000. This may not cover some of the other hidden cost such as training materials, landing fees, clothing, equipment, examination and test fees etc.
A lot of clubs sell training hours in multiple blocks of 5 hours and they sometimes give you a small discount over the normal hourly rate if you pay using this option. They may give a larger discount if you pay for the "whole course" in advance. Keep in mind that "the whole course" is only an estimate of the hours typically needed to reach completion and that you will have to pay for any extra hours needed to finish your training.
Do I Have The Time For It?
Training typically takes between 4 to 18 months and sometimes longer to complete.Your job will probably determine when you can fly and most people in full time employment usually fly on the weekends and sometimes in the evenings during summer weekdays. You may not have enough time to get to the training school during weekday and training during the weekends could also have an unexpected impact on your family and social life.
Which club should I choose?
Try and get quotes from three local clubs to compare what they offer, how much they charge and consider the following points-
How long will it take you to get to the school from home or work? You should be relaxed and ready to fly at the start of every lesson.
Meet the instructors and find out if you get on with them!
Are the facilities at the school up to you expectations?
Does the school have the type of aircraft that you want to be taught to fly in?
What type of runway doe that schools airfield use? Airfields with grass runways can be "flooded out" by rain, which can sometimes put them out of use for days forcing cancellations of lessons. Tarmac runways normally have better availability.
What Does the Training Involve?
There are 19 basic topics covered during training and these are listed below-
Exercise number and topic
1. Aircraft Familiarisation
1E. Emergencies
2. Preparation for flight and action after flight
3. Air experience
4. Effects of controls
5. Taxiing
5E. Taxiing emergencies
6. Straight and level flight
7. Climbing
8. Descending
9. Turning
10A. Slow flight
10B. Stalling
11. Spin avoidance
12. Take-off and climb to down-wind
13. Circuit, approach and landing
2/13E. Take off, approach and landing emergencies
14. Solo flights and local flying
15. Advanced turning
16. Forced landing without power
17. The Precautionary landing
18A. Navigation: departure and En-route procedures
18B. Navigation at minimum level and in reduced visibility
18C. Radio navigation
19. Basic instrument flight
What Type of Exams & Tests Will I Have to Take?
The exams are multi choice except for the Radio Telephony exam, which has an additional "Practical Test" that is carried out at an approved test centre. There are 7 subjects to pass and once you have taken your first exam, which is usually air law, you must complete the remaining 6 exams within 12 months. You have 24 months to complete your flight training after the date of passing you first examination.
The exams are:
Air Law (You must pass this before you can make a solo flight!)
Radio Telephony (Written and a separate practical test)
Aircraft General and Principles of Flight.
Human Performance and Limitations.
Flight Performance and Planning.
Meteorology.
Navigation.
Even after your first solo flight, which is always memorable, there is still a lot to be done! The cross-country flight test will take place when the instructor feels confident in you abilities, and that you are safe to fly on your own.Some time later the final test, "The Skills Test", is carried out with a CAA examiner. If you pass this test then you should get your licence in the post about three weeks later!
Learning to fly is fun, challenging and can be made even more rewarding when you put your own training package together in a way that best suits you.
You might also like...