Tests & Exams For Obtaining Your Licence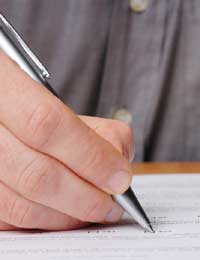 A lot of people turn to flying for the apparent freedom that the skies offer. They are sometimes surprised and a little disappointed when they start training and seemingly come across a whole barrier of rules, regulations and test that come between them and those open skies.
The skies do offer that kind of freedom and the more the student pilot flies the more apparent it becomes to them why all these rules and test are necessary and that they are there for their own and others safety as well a providing a better flying experience.
Exams and Tests
Surprisingly, the very first test that should be considered by the student pilot before starting any flying lessons or exams is to take a medical exam. This will determine if you are fit enough to apply for the type of licence that they are seeking and avoid possible disappointment, should they fail this test, at a later stage in their flight training.
Medical requirements for the Private Pilots Licence (PPL) are a JAR class 2 medical certificate. This test must be carried out by a Civil Aviation Authority (CAA) approved medical examiner and must be repeated at regular intervals depending on the student's age. This medical examination typically cost £150 and should be included in your overall budget for flight training.
If for any reason the student is unable to meet the medical requirements for the PPL or is not seeking a PPL but still wants to fly in the UK, with a few restrictions, then they may wish to consider applying for the National Private Pilots Licence (NPPL), which has less stringent medical requirements.
The requirements for the National PPL medical are that the candidate must be fit enough to obtain a Driving and Vehicle Licensing Agency (DVLA) Group 2 standard for professional driving. The declaration for must be counter signed by their General Practitioner (GP), which will also incur a fee!
Ground Exams
There are seven ground exams that must be taken as part of the overall test that need to be taken to obtain your Private Pilots Licence (PPL): -
Air Law
Aircraft General Knowledge
Navigation
Radio Telephony
Meteorology
Human Factors
Flight Performance and Planning
Once the first examination, usually Air Law, has been passed then all further examinations must take place and passed within eighteen months. These exams passes will then remain valid for a further twenty-four months until a licence is issued. If a licence is not issued during this twenty-four month period then the results will be void and all of the exams will have to be retaken.
Just about every student pilot aspires to "go solo" as soon as, probably sooner, than their instructor gives them permission to do so. This CANNOT happen, no matter how good they are at flying, unless the student has a valid medical AND has passed the Air Law Exam – something to bear in mind when you have your nose stuck in those "boring" Air Law textbooks!
Another test that should be prioritised by the student pilot is the Radio Telephony test, which consists of both a written and oral test. Using the radio can be more difficult than it looks to some students and mastering it at an early stage will definitely improve your flying experience.
Conclusion
All of the test and examinations are there for your and others safety and also to improve your enjoyment of the flying experience. Learn them, use them and remember them!
You might also like...